Modular Clean Rooms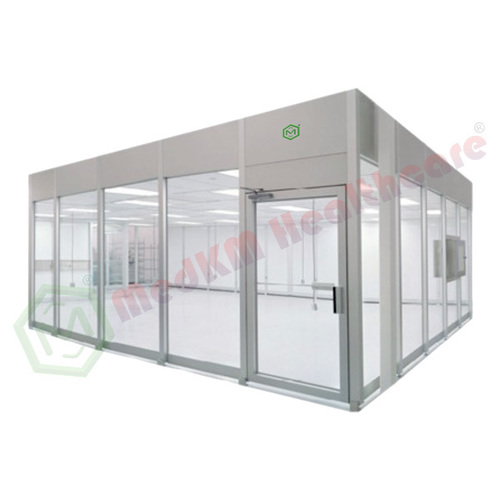 Modular Clean Rooms
Product Description
Modular Clean Rooms
Technical Specification & Salient Features:
1. MODULAR CLEAN ROOM are free standing, clean room system that is designed to provide superior clean room performance.
2. Clear anodized aluminum panels cover the filter.
3. Low noise motorized ceiling filters.
4. Used HEPA filter high accuracy 99.999%
5. Appropriate illumination inside the clean room.
6. Free from any type of particulate contaminations.
7. Standard modular rooms width are 6 fit to 34 fit.
8. Inside room length is up to 4 fit.
Outer Cover
The outer cover is made out of stainless steel, duly insulated with high density mineral wool from the inner chamber and fitted with outer.
Operating Temperature, Pressure & Voltage

1. Sterilizing Temp.: 1210C & 1340C.
2. Sterilizing Pressure: 1.2 to 2 kg/ cm2, (15 psi to 22 psi)
3. Power supply 440v, 3Ph, 50Hz.
Optional Spare Accessories

1. Pressure gauge/Compound gauge Water level glass tube
2. Temperature Gauge
3. Non return valve
4. Moisture trap
5. GPRS tracking System
6. Joint less Gasket :- Neoprene/silicon food fade rubber
7. Heating elements (Flange Type) Rating 6.0 kw, 9.0kw
Optional Features

1. Chamber/ Jacket of S.S. 316/ 304
2. Door of S.S. 304/ 316
3. To provide three sensor, one sensor is main controlling drain line and two sensor are scanning of different types of chamber area.
4. Digital Temperature controller
5. To provide High pressure High vacuum model
6. Top loading radian locking door model.
7. Automatic water level cut off systems.
8. High and low temperature alarm.
9. To provide inbuilt thermal printer facility.
10. Fully automatic HMI and PLC CONTROLLER. with printer.
Available in Following Capacities

Contact Us
325, 3rd Floor, Vardhman Fortune Mall, GT Karnal Road Industrial Area, Delhi, Delhi, 110033, India
Phone :+918037261897