Iv Cannula/catheter With Wings And Injection Port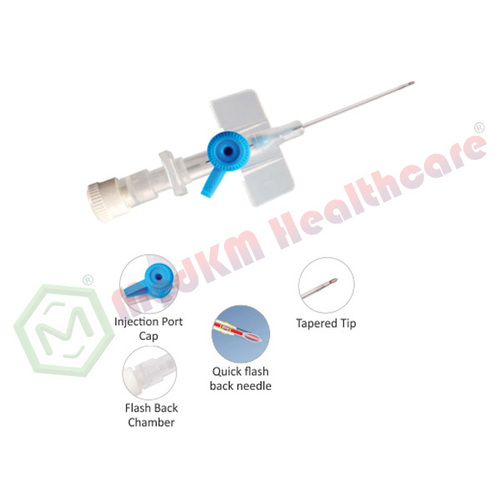 Iv Cannula/catheter With Wings And Injection Port
Product Description
Iv Cannula/catheter With Wings And Injection Port
Technical Specification
| | | | | | |
| --- | --- | --- | --- | --- | --- |
| Size | Color | Catheter Outer Dia (mm) | Catheter Length (mm) | Water Flow rate (ml./min.) | Packing inner/Outer Unit |
| 14G | Orange | 2.1 | 45 | 270 | 100/1000 |
| 16G | Grey | 1.8 | 45 | 200 | 100/1000 |
| 17G | White | 1.5 | 45 | 125 | 100/1000 |
| 18G | Green | 1.3 | 45 | 90 | 100/1000 |
| 20G | Pink | 1.1 | 32 | 60 | 100/1000 |
| 22G | Blue | 0.9 | 25 | 36 | 100/1000 |
| 24G | Yellow | 0.7 | 19 | 23 | 100/1000 |
| 26G | Violet | 0.6 | 19 | 15 | 100/1000 |
Features:
Needle: Siliconized, ultra sharp, multi facet, stainless steel, back cut, needle help clinician to perform easy and painless veni puncture.
Catheter: Siliconized with an exclusive process and made of FEP/PTFE/PUR material has smooth outer surface and tapered tip for extra smooth and painless veni puncture with minimum pain.
Flashback Chamber: It allow quick visualizations of flash back of blood and confirmation of successful veni puncture.
Flexible Wings: The flexible wings provides easy gripping and follows the contours of site allowing more secure fixation.
Needle Cover: Transparent needle cover to prevent accidental damage to needle and catheter.
Option Available:
FEP/PTFE/PUR Catheter
Flip port cap
Medical paper/Tyvek
Hydrophobic filter
Sterile / Non-pyrogenic / Single use
Contact Us
325, 3rd Floor, Vardhman Fortune Mall, GT Karnal Road Industrial Area, Delhi, Delhi, 110033, India
Phone :+918037261897