Cylindrical Horizontal Sterilizer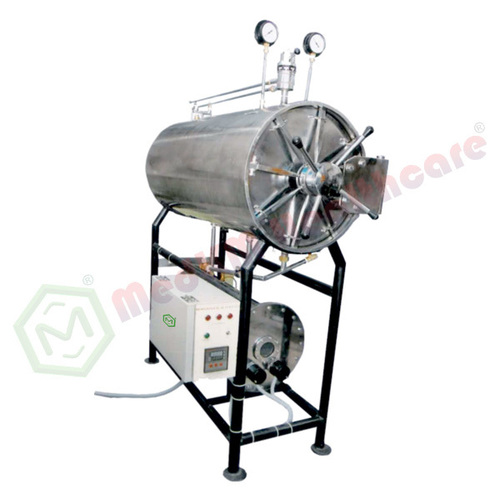 Cylindrical Horizontal Sterilizer
Product Description
Cylindrical Horizontal Sterilizer (H.P.) (Electric/Non-Electric)
Available in the following chamber sizes and technical specifications:-
Introduction:
This sterilizer is based on the principal that microbiological organism are killed or made inactive by maintaining high temperature for related time. The medium used for raising the temperature is dry saturated steam. The steam also displaces the air under the gravity effect out of the chamber resulting efficient sterilization. Robust and rigid construction, designed for all types of bulk sterilization which are commonly needed in Medical, Agricultural and Pharmaceutical Institutions. Suitable for Sterilizing hospital dressings, linens, rubber, plastic, goods, surgical instruments, glasswares, utensils etc.
Construction: Triple walled with steam jacket and separate boiler. Inner chamber and steam jacket are made up of Heavy gauge Stainless Steel sheet with leak proof argon-arc welding. The sterilizer has single piece door made of steel plate lined with S.S from inside and back plate and ring is also made of thick withstand 2.5 times the working pressure. Door is grooved to hold EPDM or silicon (Optional) gasket to securely rest on front facia of door ring for easy and perfect elegant look.
Steam Generator: Made of heavy stainless steel sheet and comes in unique design with minimum joints and bolted parts thus reduces the chances of leakage suitable capacity heating elements and low water level cut off system of protect the former from burning out dry are provided. Main hole provided on heater plate provides for easy cleaning of the deposited scale inside the generators for better efficiency. Fitted with gauge glass assembly with shut off valves (to avoid spoilage of hot water in case of glass tube breakage) for water level indication. Water inlet and outlet valves.
Pressure Control: A pressure control device (Pi-Ezostat) is incorporated in all electrically operated sterilizers. It economizes on power consumption and control the steam generation to set value depending on the temperature for sterilization.
Safety Door: Sterilizer has hinged self locking single piece thick steel plate lined with S.S from inside door and cannot be opened when under pressure. The self locking device automatically engages the clutch mechanism when the chamber is pressurized to avoid opening of the door thus eliminates the chances of any accident.
Single point control: Completes sterilizer cycle is controlled from one point with the help of Multiport valve fitted on the top. Two Steam exhaust are available, fast and slow. Drying of the sterilized load can also be done. Easily readable jacket and chamber pressure gauges are mounted along the multiport valves. A steam trap is fitted in the chamber discharge line to drain the condensate automatically.
Switch Box: Houses the 'PI-EZOSTAT' (pressure control device), main switch, pilot lamps, relays etc. and mounted on the stand of the sterilizer for easy operation.
Other Features:
1. A plug screen prevents the discharge line from choking. The plug is easily removable for daily cleaning.
2. Triple Safety: The sterilizer is provided with the triple safety features. At the boiler level by a PI-EZOSTAT which automatically limits the pressure to the required set value and a spring loaded safety valve in case of its failure which releases the steam to keep pressure within the safety limits. At the chamber level, a spring loaded valve and a dead weight release valve to release the steam in case the pressure exceeds the safety limit. All these safety features function independent of one another and subsequently i.e. one takes over the charge in case of other's failure.
3. Powerful Ejector for drying sterilized linen from chocking. The plug is easily removable for daily cleaning.
4. Automatic Vacuum breaker is provided to break vacuum in case of formation of vacuum due to steam condensation.
5. A dial thermometer is provided to break vacuum in case of formation of vacuum due to steam condensation.
Operating Temperature & Pressure:
1.Sterilization Pressure: 1.2 to 2.4 Kg/cm2 (30 Psi to 35 Psi)
2. Sterilization Temperature: 1340C to 138C
3. Power requirement: Suitable to operate on 440 V, 3 ph, 50 Hz. AC Supply.
Available Models:
Standard: The autoclave is manually operated. All functions are carried out with the help of multiport valve.
Semi-Automatic: The process is controlled by programmable logic controller and is very user friendly. Four fixed sterilization cycles take care of hospital sterilization needs. The automation avoids the human errors and interference thus assures quality sterilization. This unit need not to be attended all the time thus sparing the operator for other work.
Fully Automatic: This is the upper version of semi- automatic machine with five fixed and one variable parameter cycles. Main machine interface is provided to monitor the process parameters, set the desired parameters and to get online printing of the process to keep records for future references.
Optional Accessories:
1. Digital Temperature Controller with timer can be fixed at an extra cost. Once the temperature is attained it will automatically start the timer, so that the operator is alerted and he can perform balance operations.
2. Digital Temperature Indicator can be supplied in lieu of dial thermometer.
3. Automatic water feed system can be incorporated in the boiler, so that at higher level it switches off the water pump and restart it at lower level automatically
4. Pop type safety valve can be installed in lieu of spring load safety valve, for more accurate and better performance if required, at an extra cost.
5. In addition to vacuum dry provided in the MPV an extra ejector can be provided in the autoclave for better drying of the load.
6. Digital Pressure and Compound gauges can be provided in lieu of analog gauges.
7. Dressing Drums
8. Provision for Direct steam supply from centralized boiler
9. Temperature recorder
10. High Pressure High vacuum model
11. Additional door (Double door) model
12. Fully automatic micro processor controlled model
Spare Accessories:
1. Pressure gauge/Compound gauge
2. Moisture trap
3. Jointless Gasket: Neoprene/silicon rubber, size:400mm & 500 mm
4. Heating elements (Flange Type ) Rating kw 6.0, 9.0
5. Water Level gauge glass
6. Dial thermometer
7. Non return valve
Material of Construction :
Contact Us
325, 3rd Floor, Vardhman Fortune Mall, GT Karnal Road Industrial Area, Delhi, Delhi, 110033, India
Phone :+918037261897