Transport Incubator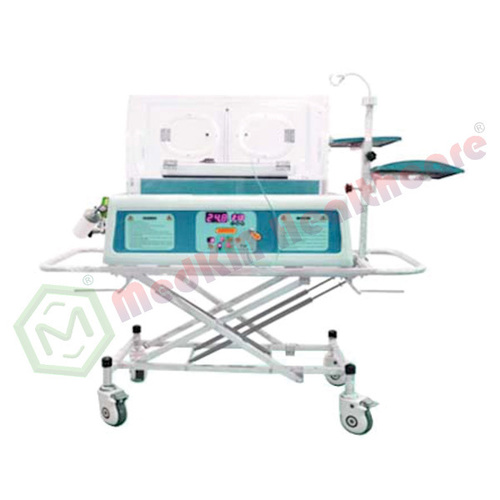 Transport Incubator
Product Description
Transport Incubator
Control Panel
The controller features a display that is easy to read at any angle during transport. Display for air and skin temperature help you maintain, control and provide essential information about the infants thermal support. Microprocessor controlled system with air and skin modes of operation. Display both temperatures i. e. Air/Skin temp along with Set temp. Soft touch operation with digital display and extensive alarms.
Collapsible Stainless Steel Stand
With 2/4 no. gas springs for ambulance and in hospital transport purposes. Gas spring system allow the stand to collapse when the lever is pulled and trolley is pressed from both the sides.
Easy Access
Quick and easy access through the side access door and front port holes. The side door folds down and the matteress retracts out from the hood to access for emergency procedures. The door and tubing ports offer ventilator tubing support .Infant restraint strap attached to the baby bed.
Power Source
Transport incubator operates on AC or DC power using AC when
available or switching to its internal battery when necessary
Battery : The batteries used in the system are 12 volt 18ah.
Sealed maintenance free VRLA batteries.
Charge Time : 8-10 hrs. per battery from full discharge.
Hood options : Standard single wall / double wall hood (on demand).
Chassis Body : Plastic (fibre) to shock proof the system
Standard Features
Single wall Hood
Skin temperature probe / Air temp. Probe
2 access doors

1 baby belt
Collapsible trolley

Optional
Examination lamp
2 disposable infant restraint straps
1 iris port
6 tubing ports
Accessory shelf
Suction, Oxygen cylinder, pressure regulatory assembly, Flow Meter, Remote Controlled movement of the Trolley.
Alarms
Skin temp low / high
Probe failure

Low battery
Power failure

System Failure
Timer
In case of high temperature i.e. above 380C, heater automatically cuts off thus ensuring baby safety. Can be used on manual mode as well.0 C- 390 C
| | |
| --- | --- |
| Temp variability | 1.00 C |
| Temp uniformity | 1.00 C |
| Air Filter | Remove airborne particle and dust |
Control Display
| | |
| --- | --- |
| Battery Condition status | Single led Indication of low bettery condition on the side panel |
| Power mode | Illuminates AC, DC or external DC |
| Air/Baby temp 0C | Displays incubator air temp / baby temperature |
Imensions in Inches (Approx.)
| | |
| --- | --- |
| Height without hood | 39" |
| In collapsible stand mode | 29" |
| Height with hood | 49" |
| Width | 23" |
| Length | 53" |
| Baby Bed | 20x11" |
| Weight | 75kg |
| Backup | 60-90mns |
| Size of Castors | 5" PU |
| Sealed maintenance free batter | VRLA Batteries Charge time : 10hrs.(Approx.) |
Contact Us
325, 3rd Floor, Vardhman Fortune Mall, GT Karnal Road Industrial Area, Delhi, Delhi, 110033, India
Phone :+918037261897