Phototherapy Unit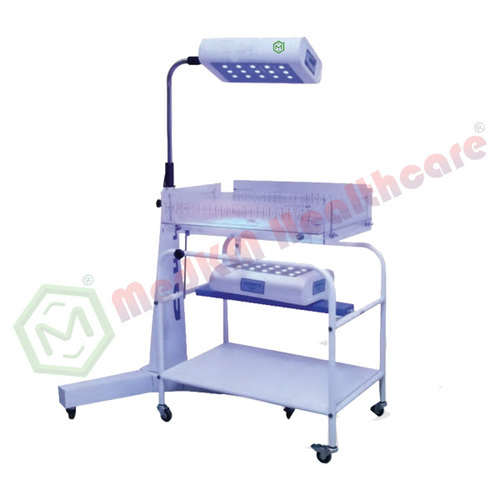 Phototherapy Unit
Product Description
Phototherapy Unit
In the new born period i.e. birth to one month, jaundice can pose a serious problem, because high level of the bilirubin, which is not water soluble, can be decomposed to a harmless metabolic which is water soluble, does not cross blood brain barrier and is rapidly excreted in the bile and urine and so does not accumulate . This has been achieved by exposing the infant to bright light (approximately 4.5 micro watts/sq cm/nm) in the range of 420-480 nm wave length by use of conventional phototherapy unit has been one of most important focus in the field of neonatalogy for many years.In order to remove the limitation of fluorescent and CFL tubes, has utilised long lasting, durable, more efficient and cost effective LEDs with more than double the flux as against what is radiated from conventional, fluorescent and CFL, for jaundice treatment.
Technical Specification :
PARAMETER
LED 9/12/15 hi power LEDs(blue)(white LED optional)
Irradiance >42 mw/cm2/nm at 30cm
Light source lifetime minimum 25,000hrs.
Less than 10% change in illumination after 25,000hrs (irradiance)
Wavelength 420-480 nm
Variation in intensity for 6 hours<10%
Effective area 50 cm X 30 cm.
Electrical :
Input voltage 100-240 V, 50-60Hz
It is a combination of over head photo therapy Unit and under surface Photo therapy with Baby Bassinet.
Baby Bassinet :
Clear Collapsible fold down side panels
Baby Tray with Transparent base for Under surface Photo therapy usage.
Lower Shelf
Movable Castors
Under surface LED Photo therapy
Same as over head placed under the bassinet.
Optional :

LCD Digital Timer for lamp usage hours and patient exposure.
X-ray Cassette guide facility.
Dimensions :
Led box : Front : 18 (L)x 10 (w) x 3(H) ; Backside : 18 x 8.5 x 3
Height(adjustable)
Min : 1230 mm Max : 1600mm
Length -800mm Width-720mm
Double Surface LED Phototherapy Unit
Contact Us
325, 3rd Floor, Vardhman Fortune Mall, GT Karnal Road Industrial Area, Delhi, Delhi, 110033, India
Phone :+918037261897