Hypodermic Needle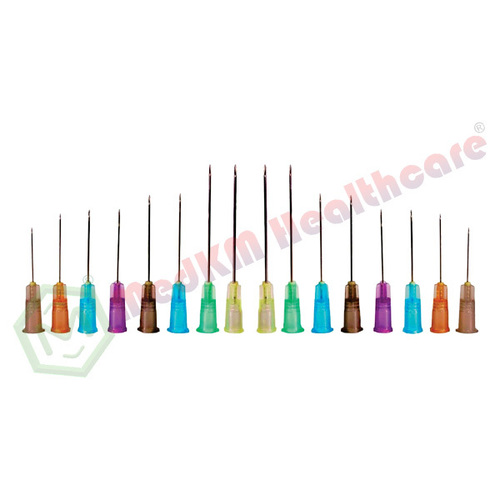 Hypodermic Needle
Product Description
Hypodermic Needle
Specification
| | | | | |
| --- | --- | --- | --- | --- |
| Gauge | Color | Size | Needle length (mm) | Needle diameter (mm) |
| 16G | White | 1 1/2 | 38mm | 1.6 |
| 18G | Pink | 1 1/2 | 38mm | 1.2 |
| 19G | Cream | 1 1/2 | 38mm | 1.10 |
| 20G | Yellow | 1, 1 1/4, 1 1/2 | 25, 32, 38mm | 0.90 |
| 21G | Green | 1, 1 1/4, 1 1/2 | 25, 32, 38mm | 0.80 |
| 22G | Black | 1, 1 1/4, 1 1/2 | 25, 32, 38mm | 0.70 |
| 23G | Blue | 1, 1 1/4, 1 1/2 | 25, 32, 38mm | 0.60 |
| 24G | Purple | 1, 1 1/4, 1 /2 | 25, 32, 38mm | 0.55 |
| 25G | Orange | 1 1 1/4, 1 1/2 | 25, 32, 38mm | 0.50 |
| 26G | Brown | 1/2 | 13mm | 0.45 |
Features:
Hypodermic (Hypo-under-dermic-the skin) needle is a hollow needle commonly used with syringe to inject or extract fluid from body.

Assembled on fully automatic machine.
Every needle tip is passed by high resolution vision camera.
Every needle is siliconized by best silicon solution from U.S.A.
Every needle is checked for bonding with hub.
Transparent needle cover.
Needle hub made of polypropylene.
Cannula is made S.S. 304
Options available:
Soft blister pack
Sterile
Bulk pack
Non-sterile
Contact Us
325, 3rd Floor, Vardhman Fortune Mall, GT Karnal Road Industrial Area, Delhi, Delhi, 110033, India
Phone :+918037261897