Anaesthesia Machine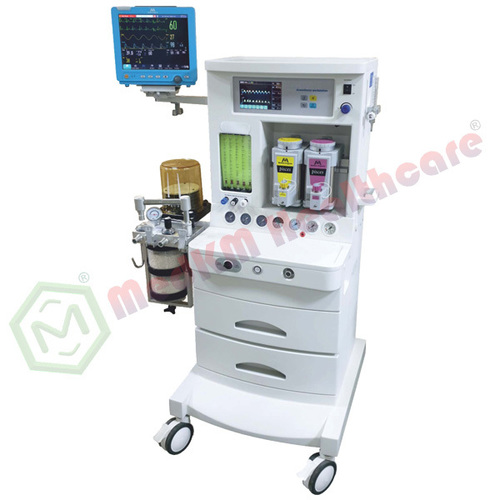 Anaesthesia Machine
Product Description
Anaesthesia Machine And Workstations
Introduction
MedKM Healthcare has developed a unique Advance Anaesthesia Workstation keeping in mind doctor's need. Compact and user friendly design of Anaesthesia delivery system helps to deliver attentive care to the patient rather than on the equipment. It supports low-flow and minimal and extensive ventilation capabilities all packed in slim and ergonomic design.
Features
Medical grade ABS plastic framework
Deep spacious drawer units
Three gas machine with provision for O2O
Ergonomically designed swivel breathing bag arm
Double canister system with two canister of approx. 1kg each
Autoclavable parts
Airway pressure manometer
Vaporiser
Calibration range : 0 to 5%, 0 to 6% and 0 to 8% set by using a Laser Refractometer, Agent Capacity: 250 25ml
Easy to turn dials with safety lock to prevent accidental turn-on
Agent specific vaporizers designed to provide constant output set by user
Interlock mechanism to lock in series with other vaporizers
Individually calibrated for specific anesthetic drug
Available in Screw fill, Quik FillTM and Meditec Fill
Available for Halothane, Sevoflurane and Isoflurane

Integrated Ventilator
This Anaesthesia Workstation has an in-built ventilator incorporating simplicity with all the advantages of a modern ventilator. It is microprocessor based sophisticated Anaesthesia Ventilator that provides optimum patient care in a quick to learn conventional design offering easy handling, comprehensive patient care with enhanced performance, efficiency and safety. With option of upgrading to pressure control mode it is suitable for ventilation of neonatal patients.
Anaesthesia Ventilator is an electronic time cycled compact ventilator with integrated patient alarms for safety.
High-Luminance 7 inches TFT colour display
Pneumatically driven electronically controlled combines sophistication and ease of use
Suitable for Adult to Paediatric use
PEEP monitoring
FiO2 Monitoring
Adjustable Inspiratory time, Expiratory time
Can be used in closed circuit anaesthesia and also to drive a bains circuit
Easy to clean detachable ascending bellows unit
Alarms
- Low supply gas pressure
- Power failure
- Battery low/ discharged
- VT, MV High and Low
- Disconnection
- Airway Pressure High and Low
- Apnea
- Sustained pressure- Apnea
- Sustained pressure
CASCADE FLOWMETER

Oxygen Low Flow
0.05-1.0 lpm
Oxygen High Flow
1-10 lpm
N2O Low Flow
0.05-1.0 lpm
N2O High Flow
1-12 lpm
Air
0.2-15 lpm
PHYSICAL SPECIFICATION

Dimensions (mm)
1465 (H) x 720 (W) x 660 (D)
Work Surface (mm)
815 (H) x 540 (W) x 250 (D)
Top Shelf (mm)
625 x 320
Drawer (mm)
490 x 320
Weight
120 kg
Power Consumption
110W
VENTILATOR TECHNICAL SPECIFICATIONS
| | |
| --- | --- |
| Tidal Volume | 20ml-1500ml |
| Frequency | 1-100 bpm |
| I:E Ration | 1:8-4:1 |
| Driving Gas | Oxygen (Standard)/ Air (Optional) |
| Supply Pressure | 45-100 PSI (310-700 kPa) |
| Minute Volume | 0-20 lpm |
| Supply Gas Low | Supply gas (driving gas) has pressure 300 kPa or below |
| Inspiratory Pause | 0-50% of Ti |
Adjustable Pressure Relief
0-70 cm H

2

O
Respiratory Manometer Pressure Gauge
(-)20-(+)100 cm H

2

O
Internal Battery Backup
120 Mins
Power Supply
100-250 Volts
Pressure High
10-70 cm H

2

O
Pressure Low
0-20 lpm10-30 cm H

2

O
Mains Fail
Indicates Main power failure
Low Battery
Less than 15 minutes backup

Contact Us
325, 3rd Floor, Vardhman Fortune Mall, GT Karnal Road Industrial Area, Delhi, Delhi, 110033, India
Phone :+918037261897