100ma Fixed X-ray Machine With Hbt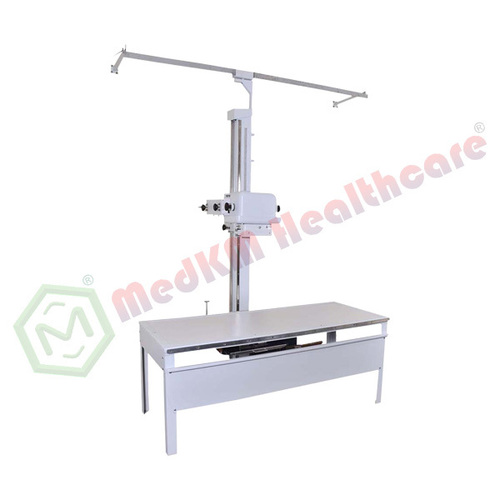 100ma Fixed X-ray Machine With Hbt
Product Description
100ma Fixed X-ray Machine With Hbt
Floor to ceiling counter balance model compatible with Horizontal/Multicon/Floating Table.
Column and Tube head rotate in 360o for easy positioning.
Available with below mentioned Tables:
Multicon Bucky Table: Five position, manually operated Bucky table with Moving Grid option (Imported). Fully counter balance in all positions.
Multicon Motorised Bucky Table: 5 Position Motorised Bucky table with spot film device. Fully counter balance table in all positions.
Horizontal Bucky table: Plain Horizontal Table with Motorised Bucky and Grid-(Imported).
Floating Table: 4 way floating magnetic locking table with/without moving Grid-(Imported).
Accessories: Collimator, compression Band, Foot Rest, Cough Guard and Ray Guard.
TECHNICAL SPECIFICATIONS

Output
Kw
Type of Generator
2 Pulse, full wave rectified
mA Range
25-100mA
Kvp Range
30-100 Kvp
Exposure Time
04 to 06 sec
Timer
Electronic (Micro Controller Based)
Display
Digital (mAs & Kvp)
Input supply
230 AC, 50 Hz
Tube type
Stationary Anode
X-Ray Tube
XD-3 / DSA-3
Protection
Tube overload & High Voltage
Contact Us
325, 3rd Floor, Vardhman Fortune Mall, GT Karnal Road Industrial Area, Delhi, Delhi, 110033, India
Phone :+918037261897